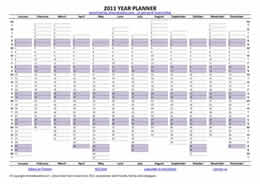 Back by popular demand is the 2011 A4 Year Planner.
The 2010 version proved exceptionally popular and I have received many email asking for a new one for 2011.
It pays to plan ahead – holidays, work, school holidays, birthdays etc.
To use simply print off as many copies as you like – the 2011 year planner fits nicely on a piece of A4 paper in landscape view.
Please feel free to pass this yearplanner on to friends and family – I am sure they will find it most useful!
p.s. please note that the "thick" lines which appear between the days of the month do not show up when the yearplanner is printed!
Click here to download 2011 Year Planner
Be sure to grab my RSS feed and newsletter to be kept up to date with all new blog posts.